You know where to buy beautiful and high-class crocodile handbags in Ho Chi Minh City, Nha Trang, Hanoi – Bags are indispensable fashion accessories for women. Especially owning a stylish crocodile leather bag is always the common desire of women.
If you are looking to buy yourself one but do not know where to buy beautiful, high-class crocodile leather handbags, don't miss the article below.
How to tell if the genuine crocodile leather handbag
Referring to crocodile leather handbags, fashion followers must be no stranger. This is considered a "luxurious – genuine – durable" accessory showing the nobility and style for its owner.
It is also because of the above reasons that lead to the appearance of a series of fake bags labeled as branded crocodile leather handbags, if you do not have a solid knowledge in identifying, the probability of buying wrong is very high.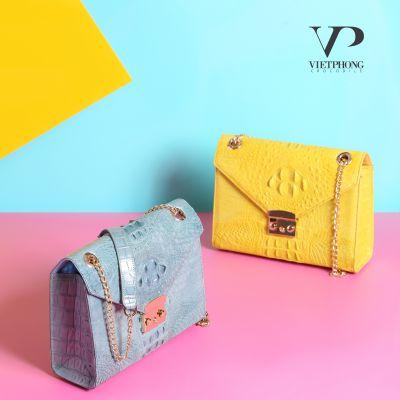 Color and durability are the top criteria to assess that the bag you own is made from fish. real or fake. With genuine crocodile leather handbags will have extremely high durability, when observed on the surface will see the natural shine, after a period of use without peeling or discoloration like other bags sold. on the market.
If properly maintained, using a bag over 10 years old is perfectly normal and looks like a new bag.
The trick to help you identify the easiest is to try rubbing the leather bag together, if you see the phenomenon of color flying, peeling on the surface, they are fake bags.
Because this is known as a bag made of high-quality materials, expensive brands, just by looking with the naked eye you will see its natural shiny beauty. In particular, accents of thorns, crocodile pattern with smooth moving lines, in no particular order will create a trendy look for this accessory.
How much does a nice crocodile handbag for women cost? Where to buy crocodile leather handbags to buy in HCMC, Nha Trang, Hanoi?
Surely a genuine crocodile leather handbag will not be cheap. The cost depends on many different factors from size, design, style, accessories, brand, location of sale …
But overall, a true quality brand name bag will cost about 8,000,000 VND on average.
If you buy the bags introduced as made from high-end crocodile but only a few hundred thousand to two, three million, then you are likely to buy low-quality counterfeit already.
You may not know it, but it takes a lot of time and difficulty for artisans to create beautiful fashion accessories, especially for crocodile skin is very thick.
Therefore, do not buy cheap fake goods, soon the bag will be faded, peeling skin surface or even damaged.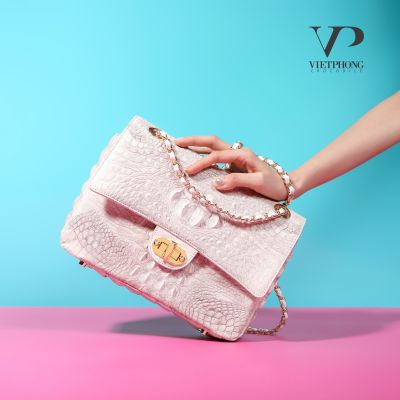 Where to buy beautiful, luxury, brand-name crocodile handbags in Ho Chi Minh City, Nha Trang, Hanoi?
Not everyone can easily choose for themselves the address to buy genuine quality handbags, as more and more shops and shops in the market identify themselves as the supplier of crocodile leather handbags for prestigious men and women. Best.
If you are having difficulties in choosing a reliable address for genuine high-class crocodile products, do not miss Viet Phong.
Proud to be the most prestigious crocodile shop on the market today, Viet Phong always produces designs and styles that not only guarantee quality, but also keep up with the latest fashion trends. Many ages and genders.
That is why, although there are many large stores specializing in crocodile leather handbags, Viet Phong still wins the trust of customers from near and far.
Coming here, you can freely choose the bag style suitable for your own style to use for parties, working, meeting customers … without fear of being outdated.
In addition to handbags, Viet Phong also offers many fashionable accessories for men and women such as belts, wallets, shoes … and of course all are committed to 100% production materials from crocodiles.
With the above sharing, now you have less worried about buying beautiful, high-class crocodile leather handbags, where are the brands? Still hesitate, do not buy yourself one to show the aristocratic style.
Crocodile leather handbags
Brand crocodile leather handbags a>