Viet Phong cowhide leather belt brings a new fashion style for both men and women. Genuine Viet Phong cowhide leather belt products help to enhance the nobility and class. However, not everyone knows the details of the cowhide leather belt product line and any reputable supply address. The following article of Viet Phong store will give you comprehensive and insightful views about high-class genuine cowhide belts.
Introduction of Viet Phong cowhide leather belt
For a long time, cowhide fashion products have been well received by the market with many good assessments of quality and appearance. Viet Phong brand cowhide leather belt products are no exception. So, what is this impressive product of cowhide belts that creates a strong attraction to consumers? Let's learn with Viet Phong store about all products below.
 
Made from genuine cowhide material: cowhide is considered to be the gold material in men's fashion and is widely used in leather industry. Because of the high-class natural properties such as high durability, soft leather, double-sided leather that is difficult to tear, hard to scratch even when you try to tear it with force, use it for a long time without fear of worrying or worry about your skin. Also, leather products are easy to clean and clean.

 

High quality cowhide materials, carefully selected, rigorous from raw cowhide. Combined with modern tanning technology to contribute to the value of all kinds of 2-sided leather belts, single-layer leather, …

 

Luxurious design, beautiful and unique pattern: Viet Phong cowhide leather belt with branded products will create the perfect accent for your outfit. Make men stronger, more elegant when using the product.

 

Suitable for many styles: whether you wear luxurious Jeans, Shorts or Western pants today, your outfit is brown or black, etc. Premium cowhide back, looks very noble and class.

 

Designing a variety of convenient face locks: high-quality cowhide buckle head is what many customers pay attention to every time they choose to buy products. Because it not only ensures durability, unlocking smoothly, it also has to stand out both in style. Therefore, Viet Phong store has provided customers with brand-name cowhide leather belts with smooth locking heads, fasteners, silver locks, rolling locks, needle tips, … very sophisticated. tone and convenience.

 

Meticulous, skilful stitches, sewing threads of the same color as the product exemplify sophistication and nobility.

 

Suitable for working, going out, partying: office guys often like to combine cowhide belts with similar-looking purses.
[/vc_column_text][vc_row_inner][vc_column_inner width="1/2″][vc_column_text]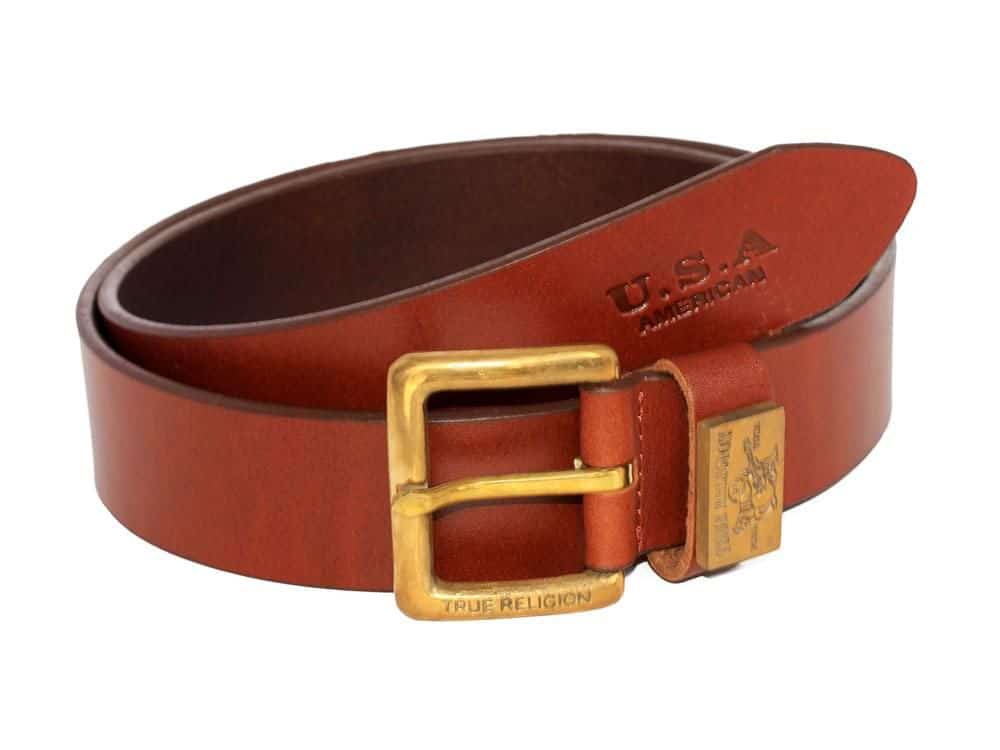 [/vc_column_text][/vc_column_inner][vc_column_inner width="1/2″][vc_column_text]
[/vc_column_text][/vc_column_inner][/vc_row_inner][/vc_column][/vc_row][vc_row][vc_column][vc_column_text]→ You may be interested in:
cowhide shoes
Whether you use any leather product or fashion accessory, preservation plays an important role in the quality and durability of the product. Belt – cowhide belt is a high-class fashion product, but it is also very easy to damage if you use and store improperly. Therefore, you should not ignore the sharing on how to preserve accessories cowhide fashion of Vietnamese shops Feng right here.
Mistakes when using and preserving Viet Phong cowhide leather belts
First, to get the right storage, you need to know why your brand belt is damaged. There are many reasons to explain this, but the main reason is in the habit of using and preserving the mistakes of the user.
 
You do not hang, store the belt neatly after use: this is often seen in many men. When you get into the habit of throwing your belt somewhere after returning home, it's sometimes not even taken off your pants. This is easy to cause the belt to be folded and broken. Not to mention at some point, you accidentally stepped on it, that's really bad. Your genuine cowhide belt must also be damaged soon.

 

Accidentally putting the washing machine in the washing machine: this is uncommon but should not be ignored. Practice the habit of checking your clothes thoroughly before you wash them. To avoid the situation of crumbling, damaging belts, wallets or papers left in the pile of clothes. This will cost you a lot of money to buy new things again.

 

Frequent exposure to high temperatures: this is because you often expose your cowhide belt under intense sunlight or exposure for several days in a row. You should know that direct sunlight, temperature will easily cause surface to explode, peeling look very bad.
[/vc_column_text][vc_row_inner][vc_column_inner width="1/2″][vc_column_text]
[/vc_column_text][/vc_column_inner][vc_column_inner width="1/2″][vc_column_text]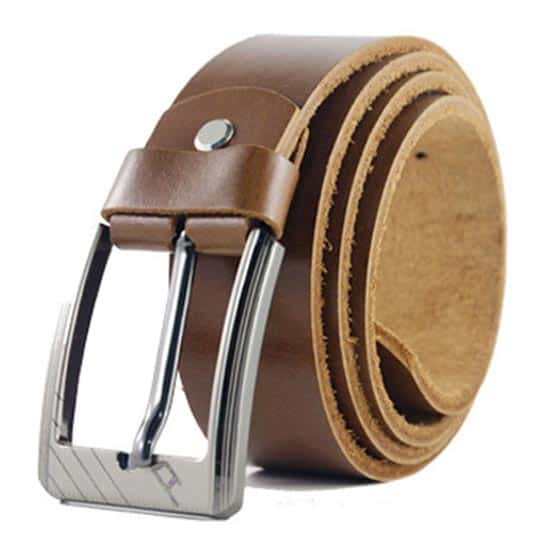 [/vc_column_text][/vc_column_inner][/vc_row_inner][/vc_column][/vc_row][vc_row][vc_column][vc_column_text]
< significant significant
How to preserve genuine Viet Phong cowhide belts always like new, durable?
This is definitely a difficult question for all men and women who want to preserve their brand leather belts. So, you should keep in mind the following sharing of Viet Phong store, to keep your belt always durable and looking like new.
 
Hang your belt properly: The correct way of hanging a 2-sided leather belt is to hang it vertically, so as not to break or fold the cow's surface. Therefore, you should equip a hook to hang the belt and should hang in a fairly spacious place, to avoid the case it is kinked due to excessive clothing. So, get from that habit of hanging your belt by folding in half or throwing haphazardly on heaps of clothes. Because this hanging is easy to damage the product and you have to spend time searching.

 

Let it dry itself: if you're just getting your brand's belt wet, don't put it out in the sun or use a dryer to dry it. Instead, put it in a dry, cleared place and allow to dry. In order to avoid causing the skin surface to peel, explode due to excessive heat impact. Because of the nature of genuine cowhide belts, the organic compounds form.

 

Periodic maintenance: you regularly maintain vehicles, machinery regularly, cowhide belts should be the same. This maintenance method is so simple that any man or woman can apply it at home, so that your belt is not moldy and always shiny. People often use ripe banana peels or potatoes to rub on the waist surface to increase the shine of the product. Or you should buy yourself a specialized poker kit for leather maintenance and just need to clean the belt once a month for about 30 minutes, it will help your fashion accessory always like new and use a few more. years away from being afraid of being damaged.

 

Proper cleaning: in fact, many customers of both men and women of Viet Phong store often make mistakes when cleaning Viet Phong cowhide belts. The result makes the skin surface ugly with peeling, scratching, explosive marks. Therefore, starting today, you should clean the 2-sided leather belt with a clean towel dipped in a little milk, then wipe again with dry. Or for a long-lasting cowhide belt, you can clean it with a cotton ball with a mixture of water and alcohol in a 1: 1 ratio, or use a special soap instead if they can't be removed. clean stubborn mold. If you encounter greasy oils, you should sprinkle some baby powder, baby powder on the front about one day, and wipe the pine oil off the next day.

 

Storing properly: To keep the leather belt on both sides hygroscopic. You should choose the box with lids, sized to fit not to dented the waist and avoid dirt. Then place it in a cool, dry place, higher than the floor. Certainly, this way of preserving your belt will help you overcome all weather conditions, including hot summers and wet winters.
In short, whether you are male or female, old or young, always be a smart consumer, knowing how to properly preserve high-end leather fashion products. Good use, proper storage helps extend product life and save you a lot of effort and money.

Tips and tricks for distinguishing your belt – fake cowhide belts
In fact, not all customers know how to distinguish high-quality cowhide belts and price goods. This is the gap that helps fake and poor quality products easily penetrate into the leather market. Therefore, the information on how to distinguish high-class cowhide belts and fake cowhide belts from Viet Phong store will be extremely helpful for you.
→ You may be interested in: cowhide handbags
Try wrapping the belt
The belt is the first thing for every male and female customer to visit the leather fashion stores to choose to buy high-quality cowhide belts. In the process of rolling, pay close attention to the skin surface to detect the fractures, stretch marks begin to appear. Because genuine cowhide material is very soft, users can easily fold, roll fashion products with cowhide is not afraid of cracking or peeling. And for belts made of synthetic material is not.
[/vc_column_text][vc_row_inner][vc_column_inner width="1/2″][vc_column_text]
[/vc_column_text][/vc_column_inner][vc_column_inner width="1/2″][vc_column_text]
[/vc_column_text][/vc_column_inner][/vc_row_inner][/vc_column][/vc_row][vc_row][vc_column][vc_column_text]
< significant significant
Gently scratch the back of the belt
Another way to distinguish genuine cowhide belts and fake leather belts is you scratch gently on the back of the belt. Cowhide material is very soft and flexible, so customers can easily see a faint line appearing immediately after scratching. In contrast, a fake cowhide belt is made from many different materials or padded from many other types of leather, so it is quite hard and does not have the flexibility as real leather. You can easily feel that your finger will be rejected if you scratch it on a fake belt.
Fine, uneven grain of cowhide lines
Men will often pay more attention to the ridges on the surface of the cow leather belt to judge whether it is real or fake. We must recognize that the ridges on the skin of the cow are very sharp and unique, adding value to the products. But it never achieves uniformity and consistency. This is the only highlight in the luxury goods.
Therefore, no matter how sophisticated you try to fake it, the ridges on the fake products always look very uniform because they are embossed by a machine. And almost all are the same, folding the mold because it is manufactured from a mold. Because every position on the cow is different, among the other also. So it is obvious that there are almost no duplicated products of designs and patterns on the skin.
Uneven color characteristics and poor diversity
High quality cowhide material is very limited in color. But to attract and catch the eye of customers, many manufacturing facilities have applied the dyeing technique to increase the appeal. However, sometimes this makes it easier for buyers to confuse with fake products. But you should know that no matter how real cowhide has been dyed with modern technology, it is not too bright, too eye-catching and perfectly colored like fake products. Because it depends much on the characteristics of the original skin layer.
Touching does not feel smooth
Genuine cowhide is soft but it is not as smooth and glossy as leatherette material. Therefore, you will also feel the rough and not smooth on the surface of the high-class cow leather belt. In contrast, for fake cowhide belts made from PU leather, Simili leather will have a lot more gloss.
Smell
These types of belts – fake cowhide belts though have gone through the process of meticulous and rigorous odor treatment. But you'll also smell a faint, unpleasant plastic smell when you bring it up near your nose. At the same time, it could not get the snoring of real cow leather.
Or if you try to burn two real, fake cowhide leather belts, you will smell the burnt meat from the real belt. Because the composition of cow leather is organic compounds. Left, the fake leather belt again emits plastic smell, burnt plastic bags smell very foul and uncomfortable.
Distinguish belt buckle – cowhide belt from buffalo leather
In fact, many stores sell buffalo leather belts to deceive customers. However, you can completely avoid this trick thanks to the following characteristics:
 
Belt – cowhide softer and more elastic: you can check with a roll, fold the belt or press it lightly to see the elasticity.

 

The pores of the cowhide are numerous, small, evenly distributed, very cool to the touch, the fine grained veins and closely arranged together.
[/vc_column_text][vc_row_inner][vc_column_inner width="1/2″][vc_column_text]
[/vc_column_text][/vc_column_inner][vc_column_inner width="1/2″][vc_column_text]
[/vc_column_text][/vc_column_inner][/vc_row_inner][/vc_column][/vc_row][vc_row][vc_column][vc_column_text]
< significant significant
Distinguish the belt – a layer of cowhide
Currently, the market is selling mainly 2-sided leather belts. Because cowhide has soft and flexible characteristics, it is necessary to use 2-3 layers. And it's hard for you to find a single layer cowhide leather product. So this type of belt is also very difficult to fake and it usually has a higher price than other similar products.
→ You may be interested in: cowhide wallet
How much is cheap Viet Phong cowhide belt?
How much does Viet Phong 2-sided leather belt buckle cost? Is Viet Phong 2-sided leather belt cheap? It is the questions of many customers sent to our store in recent years. Typically, a genuine cowhide belt has the lowest price of 500,000 VND or more, even with products up to several million. Do not think cheap ham but choose to buy fake products, poor quality priced at several hundred thousand. Because it quickly breaks down and costs you more to buy new ones. Sometimes synthetic materials will have adverse health effects.
The selling price of beautiful cowhide belts at Viet Phong store depends on a lot of factors, such as size, vein layer, head lock design, double sided leather, single or double layer leather and the fluctuations of the market. The school sometimes impacts product prices. If you want to own high-class, genuine belts, immediately visit the website www.vietphongsaigon.com for details or call the hotline 0943 065 779 to get the most accurate quotes and advice. devoted. We are committed to bringing genuine, high-quality cowhide belts for men and women at good prices.
Where to buy cheap, beautiful cowhide belts, in HCMC?
If you are busy searching for an answer: where to buy cheap cowhide belts – belts in HCMC? You are trying to wait for google to return to the stores that sell reputable cowhide belts and choose an appropriate address. So why don't you come to Viet Phong's shop today. We are proud to be a reputable brand in the leather tanning and fashion industry. Viet Phong salon has more than 40 years of experience in the field of tanning, so all leather materials are carefully handled, ensuring quality and safety for users. At the same time, we also operate and research on leather fashion with a long history of more than 15 years. So Viet Phong is very knowledgeable about fashion trends, keeping up with current and future fashion needs.
Also, you should come to Viet Phong leather fashion shop today, because:
 
Variety of types and designs: you are free to choose 2-sided leather belts, 2-sided leather wallets, 2-sided leather shoes, leather handbags, … with many beautiful designs, A wide range of fashion styles from classic to modern, exclusively for men and women.

 

Commitment to prestige, 100% genuine leather, say no to fake leather, poor quality goods.

 

High quality products, cheap.

 

Feel free to return or exchange if the product is unsatisfactory, damaged due to manufacturing errors.

 

Professional, welcoming, dedicated consultants.

 

Large and luxurious product display space.

 

Compensate, compensate if found counterfeit.
In short, if you are looking for a reputable store, selling cheap cowhide belts – do not hesitate to come to Viet Phong facility. We are committed to serving our customers with all prestige and love. Viet Phong is a great answer to the question "where to buy cowhide belts and belts in HCMC reputable and cheap?".
Thus, the article above has helped you understand more about the cheap Viet Phong cowhide leather belt buckle product. Hopefully you've accumulated important information on how to preserve and identify genuine fake cowhide belts. Surely, by the end of this article, the question "where to buy cheap, quality cowhide belts from HCMC?" will no longer make you difficult, with the reputable Viet Phong store address.
[/vc_column_text][/vc_column][/vc_row]