Viet Phong python leather belt – high quality, stylish fashion accessory – Recently, many male customers tend to buy Viet Phong python leather belt. Python skin possesses a unique feature of the horn scales, the spot color is very unique. So, do you have a high-class Python skin belt from Viet Phong brand? If not yet, do not miss the following article. Viet Phong store will tell you many surprises about this product line.
Introduction of Viet Phong python skin belt products
Python is a reptile of large size, healthy. So fashion products made of python skin also mean a lot of power and power. Python skin is thin and lighter in weight than cow skin, buffalo skin, crocodile skin, etc. However, this does not determine the durability of the skin. So genuine Python leather belt is very durable, supple, hard to tear with strong force, no peeling.
→ You may be interested in: python leather wallet
[/vc_column_text][vc_row_inner][vc_column_inner width="1/2″][vc_column_text]
[/vc_column_text][/vc_column_inner][vc_column_inner width="1/2″][vc_column_text]
[/vc_column_text][/vc_column_inner][/vc_row_inner][/vc_column][/vc_row][vc_row][vc_column][vc_column_text]
The surface of these cords is a bit rough. That's because the scab is quite fragile on the outside, but you will not be able to break them easily. Each dress is very well arranged and extremely natural. In particular, the natural color on the skin is divided into different bright and dark areas. This is the unique feature of the python skin product. If you are seeing genuine genuine Python leather belt for the first time, we are sure that you will enjoy and enjoy it.
Typically, metal buckle buckle is most used in python-belt products. With the locking device is the python skin layer similar to the body. This creates harmony and uniformity, giving users a feeling like a real python, very elegant and luxurious. Pythons leather belt length is very diverse, with up to 120cm long, suitable for fat people, oversized body can use Viet Phong python leather belt. And people also favor the design of a python skin belt rather than 2-sided leather.
→ You may be interested in: python shoes
How to preserve the belt of Viet Phong python skin
Python skin is very fragile, so you need special storage. To preserve genuine Viet Phong python leather belts, you should follow a few tips:
 
Do not put the belt directly under the light of the face: no matter what type of leather belt you use, this is taboo. By UV rays, ultraviolet rays in light will damage the skin layer. Make your high-class Python skin belt dry, warp or flake. The color will fall off to look very bad. As a result, people often let these belts dry themselves out instead of sun exposure.

 

Periodic cleaning and maintenance: to help keep the skin looking new and free of dust. However, due to the structure of the python skin, the scales lining the horns lining the outside, so the maintenance is not simple. You should go to the specialized leather care shop, so you can polish your skin in the right direction. If unfortunately, you get your belt to be stained with coffee, grease, do not rush to get a towel or wash it. But use a damp, damp tissue to gradually stain away.

 

If you need to store branded leather belts and belts, don't put them in plastic bags and place them in very hot or very cold places. Because these effects will dry out, flaking, stretching and losing the smoothness inherent.
[/vc_column_text][vc_row_inner][vc_column_inner width="1/2″][vc_column_text]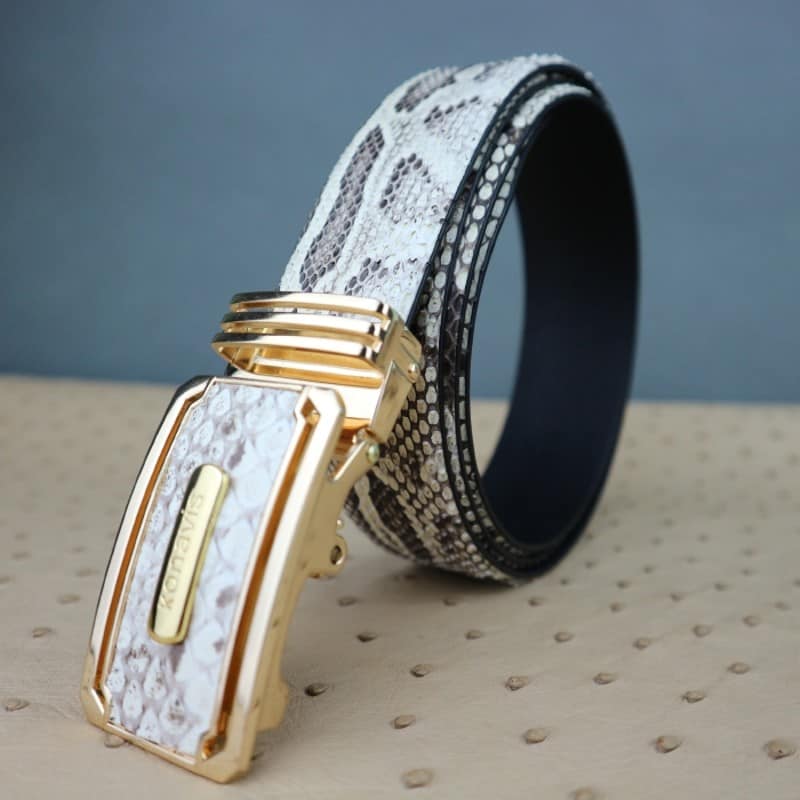 [/vc_column_text][/vc_column_inner][vc_column_inner width="1/2″][vc_column_text]
[/vc_column_text][/vc_column_inner][/vc_row_inner][/vc_column][/vc_row][vc_row][vc_column][vc_column_text]
→ You may be interested in: python leather handbags
How to tell the difference between a real and fake leather belt?
The first characteristic noticeable in genuine python skin is a lumpy surface, not too smooth. Due to the dense scales like fish scales, however, the edges are a bit sloughing making the surface uneven. However, do not think you will pull off the scales, because they are very durable, sure. This is also an important distinguishing point of high-class Python leather belts from leather products. No matter how sophisticated the forging technique is, it's hard to mimic natural rough skin.
The second identifying feature is color. If you pay close attention, the colors on python skin will have bright spots. It is very evenly matched that other skin types do not. Meanwhile, leather products are almost homogeneous in the degree of skin color. Because to make skin with dark and light tones is not a simple matter. In addition, the colors of genuine belts will react to lotions and lotions, causing the color to change in a shiny way. And the fake waist product is almost inert with the substance.
The third distinguishing feature is the burning and smelling of colors. This approach has a very high real fake rating, because you will smell different scents when burning. For branded python leather belts, when burned will scorch and burnt smell, just like when you burn hair. In contrast, fake belt products are not. It will smell like plastic and clump like you burn other plastic things.
How much is cheap Viet Phong python skin belt?
Do you love branded fashion products? You are in need of buying python skin products? But you are afraid of the skyrocketing price because this is a high quality material. However, the high or low prices also depend heavily on factors such as the style, size, location of the skin to make the product, 2-sided or one-sided leather products, and the supply base. Therefore, you should take the time to carefully consult the market price before proceeding to buy a belt – python leather belt. Do not regret the time without making a small comparison of the quality and price of products of the shops together, to vote for a reputable, cheap unit for you.
In particular, Viet Phong is also a name many people choose. We do not consider ourselves to be the leading supplier of famous leather products, but we are proud to bring our customers the products python skin , beautiful, premium, quality leather at a competitive price. Be assured of the quality of the skin at our facility, as Viet Phong will allow you to conduct a number of experiments to verify the spot. If you are not satisfied with the product, the belt is not satisfactory, you can exchange it freely in 14 days. Viet Phong will have proper refund and compensation policies.
Where to buy branded Python leather belt in HCMC?
"Where to buy beautiful, cheap python leather belt in HCMC? Where to buy genuine python leather belt in HCMC?" Is the information all male and female customers searching recently. One of those reputable addresses, Viet Phong is the best choice for every customer. When buying python skin products at our store, you will own genuine products, real python skin under advanced tanning technology. Nice design, cheap price, suitable for all pockets. Our staff will directly advise and support you during the purchase process. If you are far away, you can refer to the product on the website and hotline for specific advice. Products will be delivered to your door quickly and economically.
Besides python leather belts, many customers also need to own more high-end handbags, shoes, wallets, wallets and wallets. At the shop, we always sell many designs suitable for women. Showroom system showcasing luxurious and modern products to help you easily find the item you are looking for.
Viet Phong python leather belt has been storming the market with many outstanding features. Whether you are male or female, make sure that when you read here, you will be extremely excited to want to own such a brand name product. So, hurry up and go to the reputable leather fashion shop Viet Phong to take her immediately to her closet.
[/vc_column_text][/vc_column][/vc_row]