Established since 2005, VIETPHONG is a fashion brand specializing in quality crocodile skin products. The statement that the brand pursues is a luxurious, noble style but still does not lose the comfort and liberty inherent for you to confidently express your own class and personality.
In the fashion industry and especially with crocodile skin products, personal feelings and colors are always the top priority. Owning any crocodile skin products of VIETPHONG, it is not difficult for you to feel the harmony between exquisite beauty in bold designs in every small detail, each individual product; Combined with practicality, ease of use in everyday life.
With this motto, at VIETPHONG, crocodile skin products are not only a simple fashion accessory but also a way to express the declaration of self, the trend of every individual, in harmony with The flow of contemporary fashion is constantly moving every day.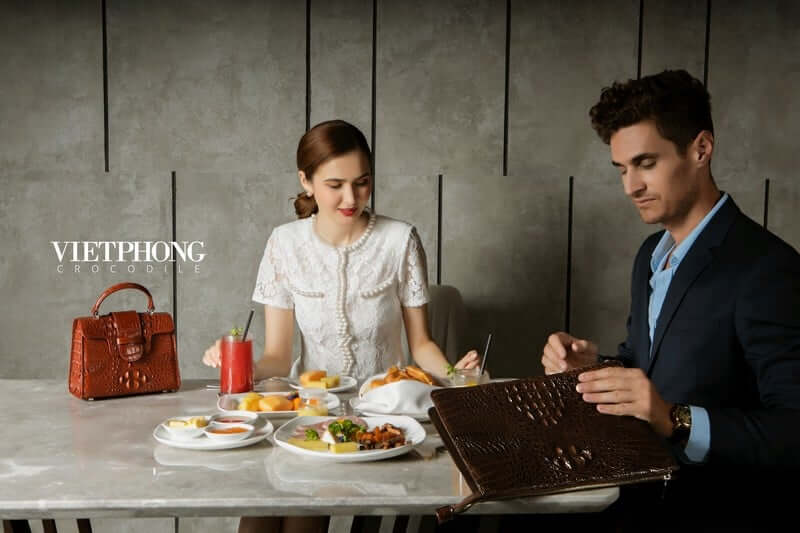 About the value VIETPHONG pursues
Being a crocodile fashion brand with more than 14 years of age, and possessing over 40 years of experience in the leather industry in Vietnam, VIETPHONG is confident to bring the best quality crocodile skin products under the hands as well. skilled workers, with an understanding of the fashion industry in general and the leather market in particular. VIETPHONG understands that every crocodile skin product is an investment in fashion. Each bag, crocodile leather wallet can be likened to a companion – comfortable enough to keep company every day, persistent enough to go through the years.
The best quality leather material
Using the best quality natural ingredients, applying professional technology and techniques in the process, each crocodile skin product at VIETPHONG meets the most rigorous standards, with the desire to bring These products are not only valuable in fashion beauty but also durable, certainly over time, user-friendly as well as environmentally friendly.
Trendy design, updated with the latest trends
Besides, design is also one of the most important factors at VIETPHONG. Crocodile leather fashion, before being a quality leather product, must meet the fashion requirements. That is the trend, trendy for modern ladies; or the classic style of gentlemen that is timeless. VIETPHONG is confident to satisfy all these requirements, thanks to the efforts of the design team who are constantly innovating to catch up with the new trend, updating fashion trends and understanding the tastes of Vietnamese people, to give birth to hundreds of diverse and new designs on the familiar crocodile skin.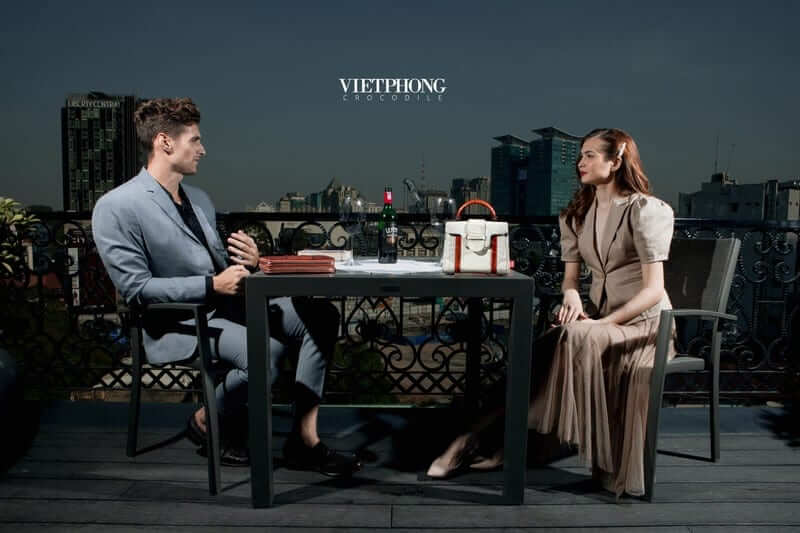 Diverse products, meet all daily needs
For any need of fashionable crocodile skin products, customers can find it at VIETPHONG. We are constantly launching products, bags, wallets, cross-body bags for office ladies or a perfect accessory for you to stand out with confidence in the night party. Men can also find a pair of smooth shoes that still prove stylish, a purse or crocodile leather belt suitable to accompany anytime, anywhere. In parallel, they are products that update the trendy young people such as clutch, crossbody, or belt bag … All of these efforts contribute to the greatest desire to bring uplifting emotions in Fashion, confidence to express your class and personality in the most complete way.
At VIETPHONG, we believe in a quality product derived from the most pure and natural values. Each crocodile leather product of VIETPHONG represents the perfect combination between choosing the right materials, creative thinking in the design, and the meticulousness of the caretaker's hands. A crocodile skin product is becoming more and more valuable over time.
About the development of VIETPHONG
For nearly 15 years of operation, VIETPHONG's philosophy has not changed; Constantly listening, feeling the customers' suggestions to develop day by day. This is most evident in every collection launched, every new store opened, or even every employee who contacted customers every day, helping spread the core values ​​of the brand. more and more widespread.
VIETPHONG system has so far had five stores in Ho Chi Minh City, Nha Trang, Mui Ne, and especially one in Moscow, Russia. When coming to buy goods directly at the store system, customers will be able to personally check the quality of crocodile skin, ready to enthusiastically advise crocodile leather products to meet the needs. Best.
In addition to the nationwide store system, VIETPHONG also develops an online business system. Remote customers can contact to buy products at Fanpage or phone number of VIETPHONG. We have a team of staff who are always online, answering all questions, dedicated advice about crocodile skin fashion needs. Even if you are wondering which product is best suited for your personality, VIETPHONG's staff will be ready to become your effective hands – listen and understand to help you choose. choose the best quality crocodile skin products and like them. After customers choose a product like that, VIETPHONG has an online ordering service and will send the product to your hands, free shipping nationwide.